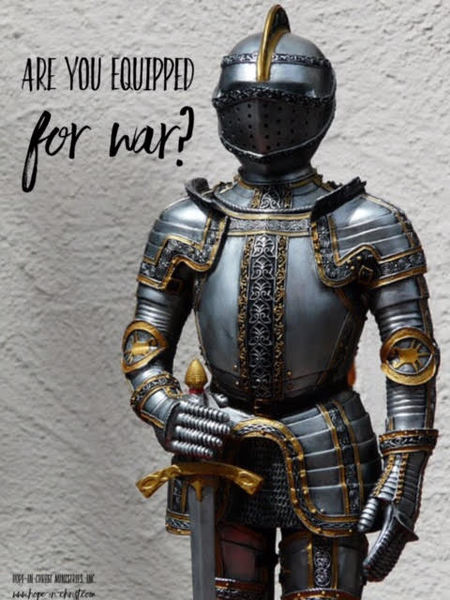 Ephesians 6:10-11 - Finally, be strong in the Lord and in the strength of His might. Put on the full armor of God, so that you will be able to stand firm against the schemes of the devil.

Are you equipped for war? This is a very profound question because we are definitely in a war. We are not in a natural war, but a spiritual war. This spiritual war is very serious. For it is a war for our souls!
In the book of Ephesians, Apostle Paul instructed the believers to put on the full armor of God.
So what then is armor? First and foremost, the dictionary defines
armor as any covering worn as a defense against weapons.Ephesians chapter 6 declares the following as the armor of God:
Girding your loins with truth
Putting on the breastplate of righteousness
Your feet being fitted with the readiness that comes from the gospel of peace
Taking up the shield of faith
Putting on the helmet of salvation
Take up the sword of the Spirit, the Word of God
To sum this up, the full armor is found only in relationship with Christ. We only have to stay covered in Him. His power does the work.
Also, when I looked more closely at the cross references to this scripture, I was blessed to find scriptures of how putting on the armor of God really looks:
We must first cast off the works of darkness, and put on the armor of light (Romans 13:12)
We must put on the new man which after God is created in righteousness and true holiness (Eph. 4:24)
Therefore, we can only be strong in the power of the Lord Jesus. We can't defeat the enemy on our own. Christ name alone causes demons to tremble. So a true relationship with Christ is a must! Walking with Christ is not to be taken lightly! He sees and knows far more than we could ever know. He is the one that causes us to see and overcome! We can only stand in Him!
So I ask you again, are you equipped for war? If not, the enemy will overtake you! Put on God's armor and no devil in Hell or on earth can defeat you! Take refuge in Him. Allow Him to do the work! He's mighty!
Be Blessed,
Hope-in-Christ
www.hope-in-christ.com
Copyright © 2016 by Denise Walker/Hope-in-Christ Ministries, Inc.
Bible Verses from New King James Version were found on Bible Gateway.