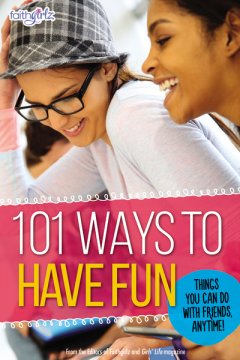 If you are a youth leader, mentor, or parent of an awesome young lady, then this book is for you! "
101 Ways to Have Fun by Faithgirlz"
is an amazing resource. This aid can be adapted for girls of all age groups! It offers out of the box ideas for girls to make the most of their time with friends, family, and even themselves.
This book has many glows! The ideas provided are differentiated for all levels of creativity! Some examples are cookie sharing, choreographing to your favorite song, and even creative ways to exercise. As a youth mentor, I know that this resource could used countless times. The book is well organized. It is divided up by chapters and themes. It is very appealing to the eye. The book is very colorful, gives specific instructions on what is needed, and provides step-by-step examples.
The only grow that I identified is with some of the pages of ideas. Many of them have great instructions. However, there are just a few that need to be more specified.
Overall, I truly adore this resource. It contains good, clean fun for young ladies. As a middle school teacher and mentor, this resource is greatly needed.
Link:
http://amzn.to/1XWUPiv
Disclaimer:
To comply with regulations by the Federal Trade Commission 16 CFR Part 255, I received this book free from the publisher through the BookLook Bloggers <http://booklookbloggers.com> book review bloggers program. I was not required to write a positive review. The opinions I have expressed are my own.