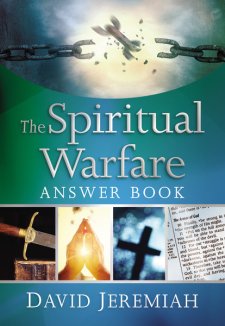 Dr. David Jeremiah is a well known pastor and Bible teacher. He has written more than 10 Biblically sound books including "The Jeremiah Study Bible." This latest book, "The Spiritual Warfare Answer Book" is a must read for all! This book is set up like a devotional and is a very easy read. It contains sup-topics and scripture references for deeper study. There are 212 pages of Bible based answers regarding Spiritual Warfare.
In the book, Dr. Jeremiah defines Spiritual Warfare, the source of Spiritual Warfare, and how Christians should battle against the enemy, Satan. Some of the questions that stood out while reading the book are: Is Satan a god? Is Satan the opposite of God? and How do I put on Christ?
Throughout the book, Dr. Jeremiah never offers his opinion to the questions, but always points the reader back to the Word of God.
Overall, I found this book informative but not overwhelming. Although Dr. Jeremiah didn't go into depth with the topics, he did leave room for individuals to complete their own personal Bible study using the scripture references.
This book could be a great gift for one to be read over and over again as a reminder of what we see in our world today and how to war against the evil. It is truly inspired by the Holy Spirit! Dr. David Jeremiah did it again. He is an amazing teacher and a mighty man of God!
Book Link -
http://amzn.to/1OuJh4t
Disclaimer:
To comply with regulations by the Federal Trade Commission 16 CFR Part 255, I received this book free from the publisher through the BookLook Bloggers <http://booklookbloggers.com> book review bloggers program. I was not required to write a positive review. The opinions I have expressed are my own.