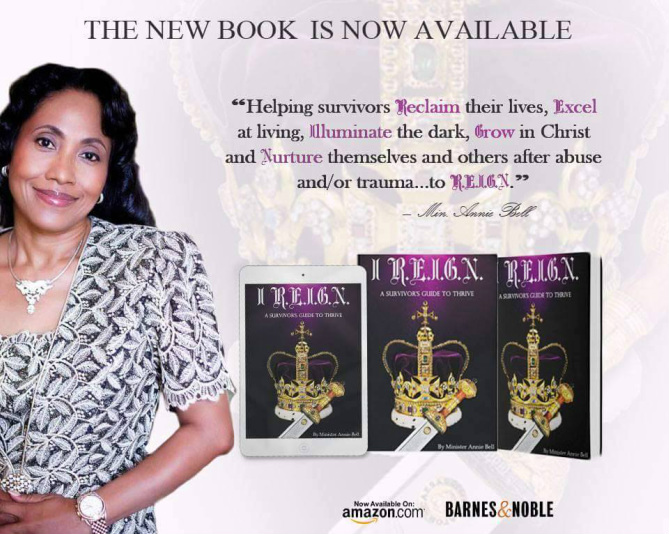 Hope-in-Christ Book Club had the privilege to read an amazing book, "I Reign: A Survivor's Guide to Thrive." After reading and discussing this great resource, we then were honored to interview the author, Minister Annie Bell. Minister Annie is an amazing leader and mentor, called by God to survivors of childhood trauma and her ministry focus is stopping child abuse and sex trafficking. Below is the interview questions and responses from Minister Bell:

1. What made you decide to tell your story to the world?

"In my years of researching childhood trauma, I found that there are not a lot of spiritual resources out there and I wanted to create one for others to use. I also realized that I was still suffering and I ran across others who were unable to resolve their trauma. I wanted to help people realize why they do what they do and how to fix it."

2. How much research did you have to complete before finishing your book?

"I had to complete over 10 years of research. I did research from the scientific side and study of psychology from a Christian point of view."

3. How did your family handle you sharing your story?

"My family was very supportive because I prepared them before time and made them aware that they may be named in it."

4. What is your favorite scripture(s)? What scriptures keep you going?

There are several.

"One is Psalms 118:17" (NKJV) , "I shall not die, but live, And declare the works of the Lord." "I like this one because there is a reason why we are still alive."

"Another one is Jeremiah 29:11" (NKJV), "For I know the thoughts that I think toward you, says the Lord, thoughts of peace and not of evil, to give you a future and a hope." "This makes me to latch on to the confidence that He is the author of a good end."

"Finally, Isaiah 54:4" (NKJV), ""Do not fear, for you will not be ashamed; Neither be disgraced, for you will not be put to shame; For you will forget the shame of your youth, And will not remember the reproach of your widowhood anymore." "I like this one because I will not be ashamed of believing in God."

5. How did you feel when you first saw your story in print?

"It was surreal. I had a myriad of feelings at first. It hit me that people who I didn't even know would know some very intimate details about me so I felt a bit embarrassed. I got over that pretty quickly. LOL. Then there was an overwhelming sense of accomplishment and fulfillment. I am still amazed at what God is doing through this broken vessel."

6. How did you manage to type your story without tearing up every second?

"Well, I actually cried a lot because I had to allow those feelings to come back, resurface, so that I could write it. I had to stop a few times and come back to it because of the tension that I felt having to replay the events."

7. At anytime, did you think of asking someone else to write your story?

"I did consider it but I really believed that God wanted me to write every letter of every word and every word upon every sentence, etc. Now I see why; while writing this book, I was able to go to another level of healing that would not have been possible otherwise. This healing journey is truly an amazing one when we let God be the pilot."

8. What advice would you give to aspiring writers?

"I would say remember that life continues to happen so make a schedule that you can stick with. For example, two hours twice a week. Also, create a social media platform. This will assist you in creating a following. This will help you when trying to get published; the publishers will see that you have a following. Finally, self-publishing is a good route to take.