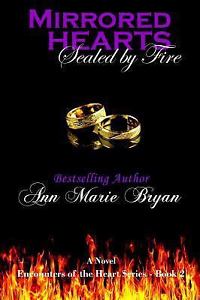 "Mirrored Hearts - Sealed by Fire" by Ann Marie Bryan is an amazing novel! This particular novel deals with the topic of adultery. I loved reading this book because adultery is not a topic that many authors address. Ann Marie breaches the topic from a Christian perspective. The characters in the novel face very serious consequences and have to choose to forgive or continue down their destructive paths.

The main characters in the novel are: Larry, Chandler, and Rozene. Ann Marie did a great job developing each character. Many times while reading the novel I could feel their emotions, and I wanted to shake them a few times. There were shocking revelations, but in the end true love and forgiveness overcame every obstacle.

This story is very well written. You won't be able to put it down. The characters will touch your heart, but most of all you will be able to feel the love of God. It is also very clear that this author is woman of God and her heart seeks to help couples heal through her writing.


I would recommend this novel to believers and unbelievers alike. This novel would also be great for couples to read together. They could address this difficult topic neutrally by discussing the characters, their actions, and their overall choices.

I gave this book 5/5 stars. This is a great work of Christian Fiction. Thank you Ann Marie Bryan. Your obedience will help many marriages.