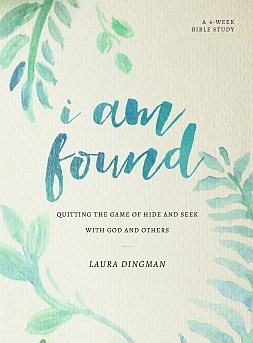 Looking for a great Bible study/journal? Then
"I am Found" by Laura Dingman
is the book for you. This book is set up like a devotional and is a six week study. It is packed with goodies! Laura asks many probing journaling questions. She defines specific words for better understanding. Laura begins with the shame of Adam and Eve in the garden and concludes with new truths about our freedom in Christ. In addition, she includes memory verses and daily prayers. Did I already say that I love this study?
As an English language arts teacher, I truly enjoyed reviewing this book. The method that Laura Digman uses reminds me of my reading instruction to my middle school students. It is very interactive and causes one to think critically throughout every lesson. I had not experienced any bible study like this one. Many others contain lots of commentary, but not enough journaling and reflecting. Laura does include her own personal examples, but ends with you making your own connections
about the topic of the week.
Overall, I found this book to be awesome! I enjoy looking closely at biblical topics and journaling. This book was great in those areas. It could be a great Bible study tool for a small group. I was very inspired by this author and look forward to more of her studies. I gave this study 5 stars and would recommend this to those that want to study more about walking in the freedom of Christ Jesus, our Lord!
Author's Website:
http://lauradingman.com/
Disclaimer: *I received a free copy of this book from Moody Publishers in exchange for an honest review.