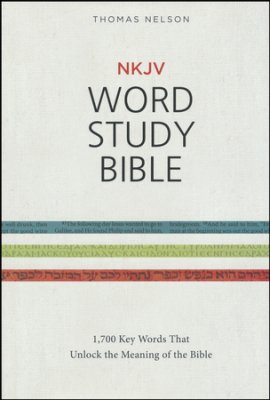 The NKJV Word Study Bible is an awesome resource ! I have this Bible on e-book. It is very easy to navigate. It is has various
hyperlinks for deeper study. The key words are highlighted in blue at the end of various verses. When you click on a word study link, it takes you to another page which contains the meaning and related verses. This Bible also includes very helpful commentary for practical living.

I am truly enjoying this tool for personal Bible study. I am a language arts teacher and love to look up word meanings. I believe that the meanings of specific terms enhance the text. When reading the Bible, it is vital to have the original meaning of the words. This helps us to understand God and His word even more. This Bible also contains a scripture passage index of which you can quickly locate specific words in Hebrew or Greek. There is also a concordance. This is great in the digital version because you are able to search quickly. When you click on these links you get the scripture reference of the words as well as the description. Finally, the NKJV Word Study Bible contains colored maps that can be expanded on your electronic device.

Overall, this Bible is well put together. I like the e-book version a lot! I love words and this Bible is just what I needed. I like to break down the words in scripture and get to the meat of God's word.

I gave the book 5/5 stars, and I recommend it to those individuals that love to dig deeper.

Disclaimer: To comply with regulations by the Federal Trade Commission 16 CFR Part 255, I received this book free from the publisher through the BookLook Bloggers <http://booklookbloggers.com> book review bloggers program. I was not required to write a positive review. The opinions I have expressed are my own.