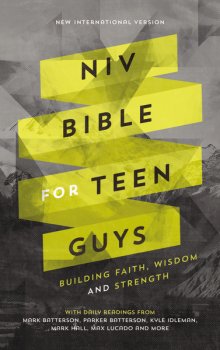 The NIV Bible for Teen Guys is one that provides practical application articles throughout. It is designed for teen boys to read God's word and then stop to reflect on the life of the different individuals or important topics that would help them to walk out their relationship with Christ.

It is a hardback with a nicely designed cover. One negative observation is the small print. It is not easy on the eye. The font within the scripture pages is readable. However, the font in the topical index is very tiny. I had a hard time reading the words without holding it at a distance from my eyes.

It also contains background information about each book of the Bible for better understanding.

One of the things I love about it is that the articles are by some of my favorite, well-known men of God. One example is Max Lucado. He is great at assisting you with applying God's word to your life.

Overall, I am enjoying it. My only complaint is the font needing to be larger. This would discourage people from purchasing it. I gave it a 4 out of 5 because of the font.

Disclaimer: I received this book free from the publisher through the BookLook Bloggers <http://booklookbloggers.com> book review bloggers program. I was not required to write a positive review. The opinions I have expressed are my own.