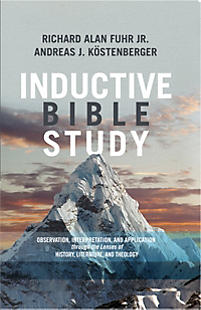 Inductive Bible Study by Richard Alan Fuhr Jr. and Andreas J. Kostenberger was not what I expected. I had been interested in finding a book that teaches the Inductive Bible Study Method, but this is more of a college textbook. It contains 371 pages. The book is categorized by chapters and units.

When I selected this book to review, I thought that it was going to be an easy read that I could use right away. I was very disappointed. I thought that I was back in college and needed a highlighter and notebook for taking down important notes.

It does contain lots of resourceful information and research about Inductive Bible Study. For example, it provides an entire chapter about selecting specific translations of the Bible.


Overall, I didn't like this book because it is a textbook and not a Bible study. I gave it four stars because it does contain great information and has an entire list in the back for further study.

If you are in Bible college and looking for a great resource, then this is the book for you. However, if you are looking for a devotional or guide to quickly teach you the steps of Inductive Bible Study, then don't order this one.


*I received a free copy of this book from B & H Publishing in exchange for an honest review.